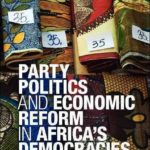 Party Politics and Economic Reform in Africa's Democracies (Cambridge University Press, 2012)
Honorable Mention, Best Book Award, 2012
African Politics Conference Group, an organized section of the American Political Science Association and the African Studies Association.
The book offers an explanation of the different trajectories of private sector development across contemporary Africa. Its main argument is that the outcome of economic reforms depends not only on the kinds of institutional arrangements adopted by states in order to create or expand their private sectors, but also on the nature of party system competition and the quality of democracy in particular countries. To illustrate this claim, the book draws on several original data sets covering twenty-seven countries in Africa, and detailed case studies of the privatization process in Zambia, Mozambique, and South Africa.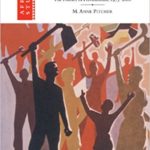 Transforming Mozambique: The Politics of Privatization (Cambridge University Press, 2002, republished in paperback, 2008)
Many of the economic transformations in Africa have been as dramatic as those in Eastern Europe, though little is written about them. This study of Mozambique's shift from a command to a market economy draws on a wealth of empirical material, including archival sources, interviews, political posters and corporate advertisements, to reveal that the state is a central actor in the reform process, despite the claims of neo-liberals and their critics. Alongside the state, social forces–from World Bank officials to rural smallholders–have also accelerated, thwarted or shaped change in Mozambique. M. Anne Pitcher offers an intriguing analysis of the dynamic interaction between previous and emerging agents, ideas and institutions, to explain the erosion of socialism and the politics of privatization in a developing country. She demonstrates that Mozambique's present political economy is a heterogenous blend of ideological and institutional continuities and ruptures.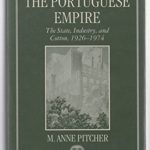 Politics in the Portuguese Empire: The State, Industry, and Cotton, 1926-1974  (Clarendon Press Oxford, 1993)
This book examines the complex relationship between the Portuguese authoritarian regime, the domestic textile industry, and colonial cotton production in Angola and Mozambique. Contrary to the common assumption, it argues that state policies did not always favour Portugal's major industry, nor did links with the empire consistently benefit it. Pitcher argues that instead conflicting interests and contradictory policies had unintentional, even debilitating, effects on many participants in the system. She exposes the pitfalls of authoritarian economic solutions and assesses the influence of empire on the development of a major industry.